1349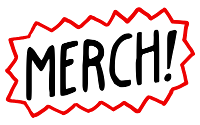 Schopenhauer and Hegel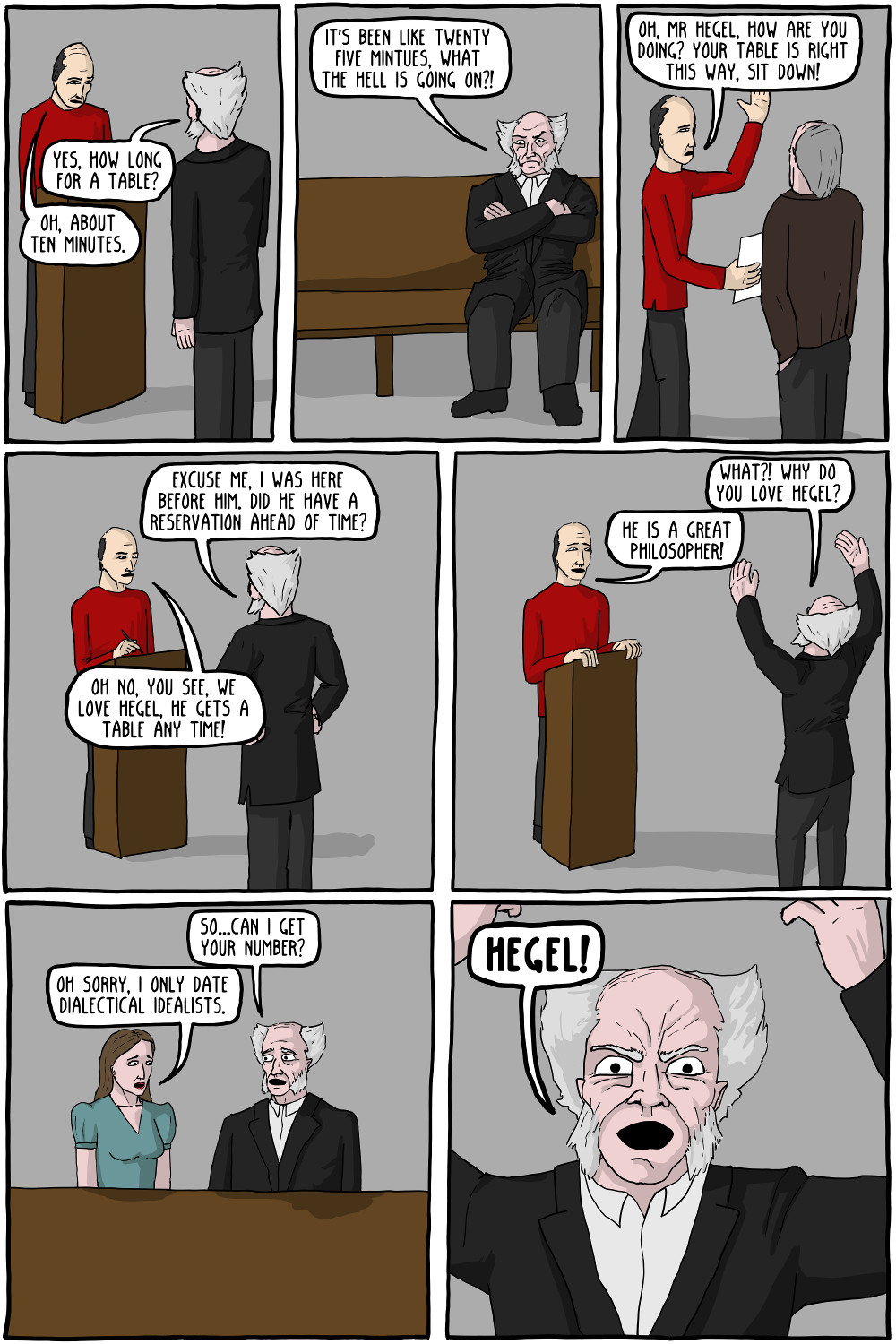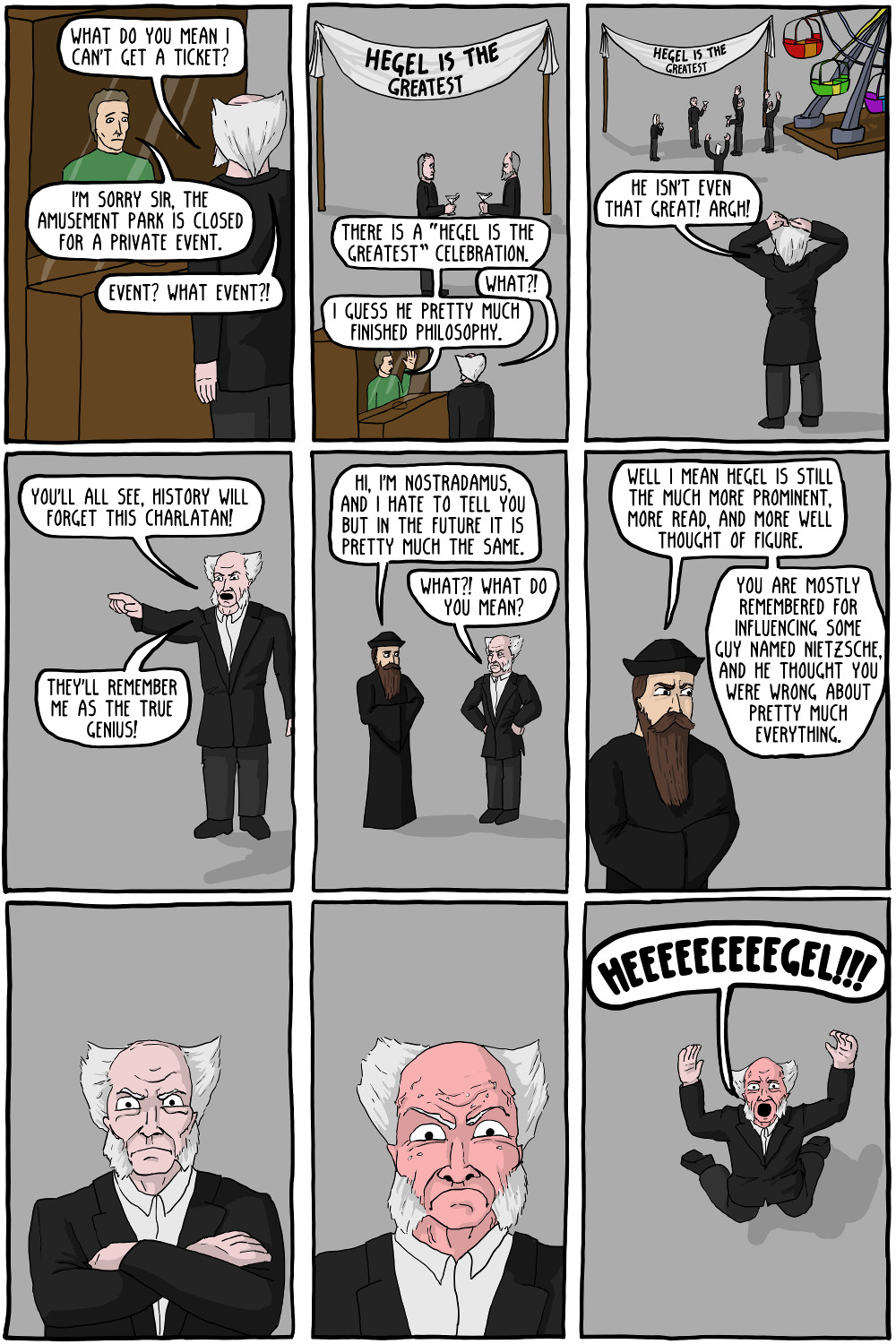 Plus this one time, Schopenhauer was waiting to get into this club for like an hour, and then the bouncer just let Hegel right in, skipping the line. It turned out to be a stupid club anyway because all the girls just wanted to talk to Hegel.
Didn't get the joke?
Schopenhauer and Hegel were both prominent 19th century philosophers in Germany. As the comic indicates, Hegel was the more prominent of the two, and continues to be the more prominent of the two to this day (although the line that Schopenhauer is only remembered for influencing Nietzsche is certainly an exaggeration). Schopenhauer was quite bitter about Hegel's success, apparently in part due to a particular incident where both of them had a philosophy seminar scheduled at the same time, and everyone went to Hegel's, leaving his pretty much totally empty. Some choice quotes from Schopenhauer on Hegel:
"Hegel, installed from above, by the powers that be, as the certified Great Philosopher, was a flat-headed, insipid, nauseating, illiterate charlatan who reached the pinnacle of audacity in scribbling together and dishing up the craziest mystifying nonsense. This nonsense has been noisily proclaimed as immortal wisdom by mercenary followers and readily accepted as such by all fools, who thus joined into as perfect a chorus of admiration as had ever been heard before. The extensive field of spiritual influence with which Hegel was furnished by those in power has enabled him to achieve the intellectual corruption of an whole generation."
- The World as Will and Idea, vol. 2 (1844)

"But the height of audacity in serving up pure nonsense, in stringing together senseless and extravagant mazes of words, such as had previously been known only in madhouses, was finally reached in Hegel, and became the instrument of the most barefaced general mystification that has ever taken place, with a result which will appear fabulous to posterity, and will remain as a monument to German stupidity. "
- The World as Will and Idea, vol. 2 (1844)

"Now if for this purpose I were to say that the so-called philosophy of this fellow Hegel is a colossal piece of mystification which will yet provide posterity with an inexhaustible theme for laughter at our times, that it is a pseudo-philosophy paralyzing all mental powers, stifling all real thinking, and, by the most outrageous misuse of language, putting in its place the hollowest, most senseless, thoughtless, and, as is confirmed by its success, most stupefying verbiage, I should be quite right.

If I were to say that this pseudo-philosophy has as its central idea an absurd notion grasped from thin air, that it dispenses with reasons and consequents, in other words, is demonstrated by nothing, and itself does not prove or explain anything, that it lacks originality and is a mere parody of scholastic realism and at the same time of Spinozism, and that the monster is also supposed to represent Christianity turned inside out, hence, 'The face of a lion, the belly of a goat, the hindquarters of a dragon,' again I should be right.

Further, if I were to say that this [Great Philosopher] of the Danish Academy scribbled nonsense quite unlike any mortal before him, so that whoever could read his most eulogized work, the so-called Phenomenology of the Mind, without feeling as if he were in a madhouse, would qualify as an inmate for Bedlam, I should be no less right."
- On the Basis of Morality (1839)
Permanent Link to this Comic: http://existentialcomics.com/comic/40
Support the comic on Patreon!
Comics I enjoy:
Podcasts & other sites I like: